Vietnam's first overhead route for cars opened for traffic on October 21. This highway is expected to shorten 50 percent of the travel time from the west to the south of Hanoi and to reduce traffic congestion in the city.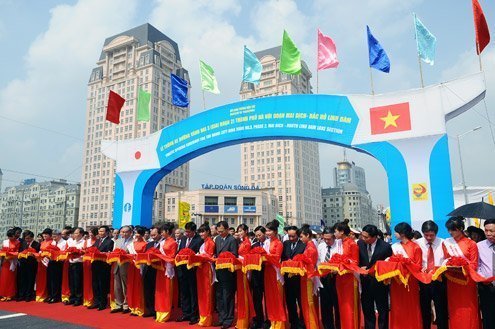 The opening ceremony on October 21.
In 2001, the government decided to build the belt road No. 3, from Mai Dich to Linh Dam, in two phases, including a 4-lane road in the first phase and an overhead road in the second phase.
After nine years, the 10km belt road was completed and put into use, facilitating the development of many urban and administrative centers in My Dinh, the city's western areas. A year later, the construction of the overhead road was kicked off. The route has 4 lanes, with the total width of 24 m, enabling cars to run up to 100 km per hour. The total investment capital is VND 5,547 billion, from Japan's ODA loans.
The overhead road was built in nearly three years, linked to Phap Van road, creating a 15km overhead road.
The overhead road also passes three major intersections in the south-west of Hanoi - Thanh Xuan, Khuat Duy Tien-Le Van Luong and Trung Hoa.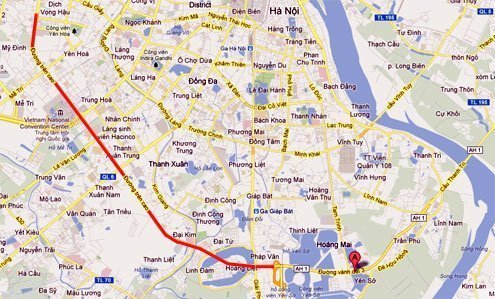 The road (red) on Google map.
Mr. Nguyen Manh Hung, Chairman of Vietnam Automobile Transportation Association, said, the new road will help shorten the travel time of at least 50 percent.
It is not only Vietnam's first overhead road, this highway also made a record in the time of construction. Bidding packages were completed 5-6 months before schedules.
To confirm the ability to complete the project on schedule, if capital is timely disbursed, in early 2012, General Director of Thang Long Construction Corporation, Mr. Phan Quoc Hieu and CEO of the Traffic Works Construction Corporation No. 8, Mr. Hai Thanh "bet" with Transport Minister Dinh La Thang that if the overhead road is not built at the right pace, they will resign.
The investors confirmed that the project was completed early but the quality and safety of the project are always taken seriously. This route is a beautiful symbol of cooperation between Vietnam and Japan, demonstrating the effective use of Japan's ODA.
Some pictures of the new road: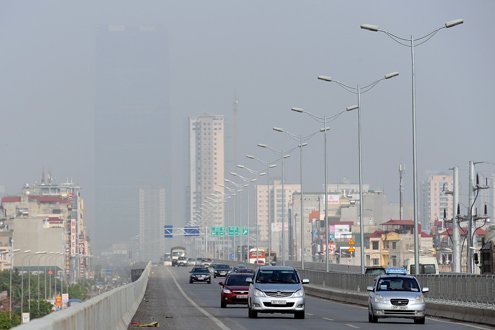 Compiled by M. Lan
Source
:
english.vietnamnet.vn