At the time when farmers finish harvesting their crops on the terraced fields on Dong Van Stone Plateau in the northernmost province of Ha Giang, buckwheat plants start to blossom, turning the whole region into a charming pink painting.
Nobody knows exactly how long the buckwheat plants have been in the region. However, the locals often use its grain-like seeds to make their food, such as cakes and to make a kind of tasty wine. The buckwheat flower is small and has pink-white colors at the beginning of blooming and then turning into light purple. Its petals form a pyramid with three triangular faces surrounding a seed in the centre.
Buckwheat flowers in the terraced fields.
Buckwheat flowers beautify the roads on Dong Van Stone Plateau.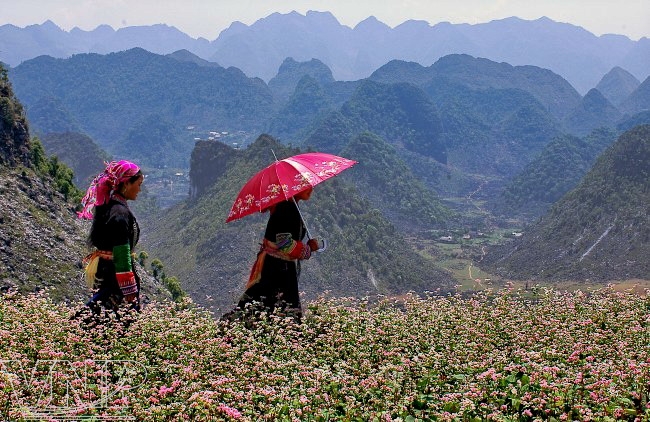 Buckwheat flowers are familiar to the locals.
Buckwheat flowers blossom in a village.
Locals consider buckwheat seeds "an inheritance" from their ancestors.
Visitors are fascinated by the charming beauty of the flower.
A large number of visitors flock to the plateau during buckwheat flower season.
Buckwheat flowers turn the whole region into a pink painting.
From the town of Ha Giang, "Happy Road" leads visitors to the world of buckwheat flower on Dong Van Stone Plateau which is well-known for a dry highland with most of its area being rugged rock. Yet, it is the habitat of the plant. Every year, at the end of November, the variety of plants start blooming on mountainsides, in all hamlets in the area of Sung La, Pho Cao in Dong Van District or on the sides of the road to the districts of Dong Van and Meo Vac and the path on Ma Pi Leng Pass, creating a charming highland.
The flowers really turn the region into a "romantic natural painting", fascinating all visitors to the highland.
VNP