In June (late May of the lunar calendar) when rainfalls pour over drought terraced fields on rocky mountain areas in Hoang Su Phi, a mountain district in the northern border province of Ha Giang, the Dao, Mong and Nung people begin transplanting paddy seedlings.
Hoang Su Phi terraced fields
Visiting
Hoang Su Phi
during this time, visitors will have not only a chance to see the terraced fields that are beautiful like a water – colour painting, but also see the lifestyle of ethnic groups. During this time, villagers often gather together to transplant rice seedlings from fields far from the hamlet to the closer fields.
Each of them has a task. Men till the fields while women clean and transplant the rice seedlings. It takes them about one week to complete the work and the terraced fields are covered by the green rice seedlings.
Here, children also follow their mothers to go to the fields to enjoy the bustling atmosphere of the season and learn how to farm. It is the way that the ethnic people hand down to the next generations the method of growing rice.
In early June, terraced fields in Hoang Su Phi in Ha Giang Province are covered by green rice seedlings.
The only time of the year for the ethnic people to transplant the seedlings.
Pulling up the seedlings.
The seedlings are cleaned before being transplanted.
Children follow their mothers to go to the fields to learn how to transplant the seedlings.
A familiar image of the ethnic people in the mountainous area during the time of transplanting.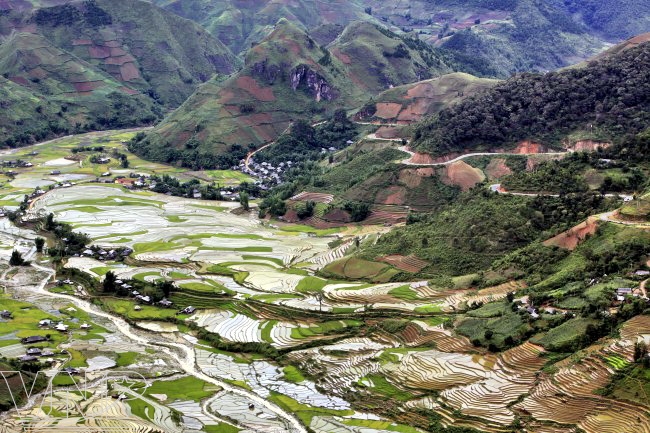 The terraced fields are like a beautiful water-colour painting.
By Tat Son
Source: Vietnam.vnanet.vn