Vietnam Airlines' ART72 craft coded VN103 carrying General Vo Nguyen Giap's coffin on board departed from Noi Bai International Airport and is heading for Dong Hoi Airport.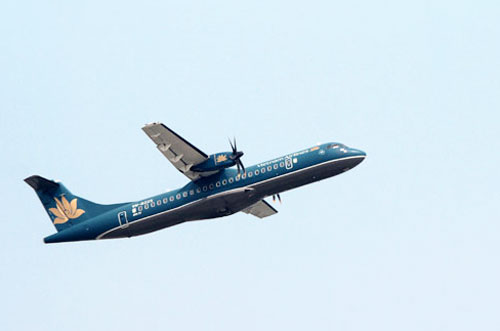 The plane left Hanoi to Quang Binh at 10.30am.
The plane is scheduled to arrive at Dong Hoi Airport at 12.00am, from which General Giap's coffin will be driven to Vung Chua-Yen island for the interment.
10.02: General Giap's coffin was carried into ART72 craft coded VN103 boarding at Noi Bai International Airport.
9.56: The motorcade is entering the runway, approaching the special ATR72 plane. All flights landing at and taking off from Noi Bai Airport were briefly suspended for the funeral.
9.00: Transport Minister Dinh La Thang is at Noi Bai Airport inspecting a special Vietnam Airlines plane designed to transport General Giap's coffin to Dong Hoi Airport in
Quang Binh
.
A Vietnam Airlines representative said the ATR 72 plane is coded VN103 symbolising General Giap's age (103).
An Airbus A321 plane, to carry Party, State leaders, distinguished guests, and General Giap's family, is coded VN1911, symbolising the year when the General was born (1911).
8.55: The convoy is travelling along Thang Long Bridge to Noi Bai Airport
8.40: Traffic police and volunteer students were mobilised to clear heavy traffic along Pham Van Dong Road leading to Noi Bai airport.
People crowded the road and flyover when the convoy was entering Pham Van Dong road
8.37: Many foreigners are standing along Kim Ma street to bid farewell to General Giap.
8.30: The motorcade is moving along Tran Phu and Son Tay streets. Many people, old and young alike, are standing along both sides of the streets, and some could not hold back their tears.
8.20. The motorcade stopped in front of General Giap's private house on Hoang Dieu Street.
General Giap's portrait was taken into the house for a solemn Buddhist ritual. Many mourners clung to each other and wept along the street.
8:12: The motorcade is travelling across historic Ba Dinh Square in front of Ho Chi Minh Mausoleum.
8:02 People filled both sidewalks of Trang Tien Street, paying their last respects to General Giap.
7:40: The motorcade is moving slowly past Hanoi's major streets before heading for Noi Bai International Airport
7:35: General Giap's coffin was placed on a gun carriage
7:30: Vietnamese leaders are carrying General Giap's coffin to the gun carriage
7.20: Party, State, National Assembly, Government and Vietnam Fatherland Front leaders filing past the casket, paying their last respects to the General.
7:00: Party General Secretary Nguyen Phu Trong is delivering a eulogy, highlighting General Giap's revolutionary life, as well as his contributions to the nation.
6.30: Many people are gathering in front of General Giap's private house on Hoang Dieu street, waiting to farewell the General when the motorcade slowly drives past.
According to plan, at 8.20 his coffin will be driven into a motorcade, travelling past Hanoi's major streets of Tran Thanh Tong, Le Thanh Tong, August Revolution Square, Trang Tien, Hang Khay, Trang Thi, Dien Bien Phu, Doc Lap, Hoang Van Thu, Hoang Dieu, Tran Phu, Son Tay, Kim Ma, Cau Giay, and Pham Van Dong, and heading for Noi Bai international airport.
At 11.00 a Vietnam Airlines plane – ATR 72 – will transport the coffin to Dong Hoi airport in Quang Binh.
General Giap will rest in peace in Vung Chua (Quang Binh)
His coffin will be again driven into a motorcade to travel along National Highway 1A to his final resting place in Vung Chua-Yen island.
General Vo Nguyen Giap passed away in Hanoi on October 4, 2013 at the age of 103.
Source: VNN/VOV/VNE