Vietnam has left a diplomatic imprint on the international community in 2013, elevating the country's role and position globally.
The diplomatic sector carried out a host of activities in all spheres, creating a favourable international environment for national development. It helped the country make the most of foreign resources for national industrialisation and modernisation, protect national interests, and defend national sovereignty and territorial integrity.
Promoting cooperation, settling differences
2013 marked the sector's progress in meeting the three objectives of development, security and position. Bilateral and multilateral relations with partners were strengthened in all areas, spanning politics, economics, security-national defence, and culture.
Party General Secretary Nguyen Phu Trong (L) met with European Commission President Jose Manuel Barroso during his European trip in January 2013.
Vietnam's global position was elevated through reciprocal visits by Vietnamese and foreign leaders. They included visits to the European Union, and world powers of Britain, China, the US, and France by Vietnamese Party, State and Government leaders, and Vietnam visits by the Prime Ministers and Presidents of Japan, the Republic of Korea, China and Russia.
These visits not only deepened bilateral ties between Vietnam and those countries, but helped settle differences. Typically, the relationship between Vietnam and China improved considerably following diplomatic efforts by both countries as well as ASEAN in easing East Sea tensions.
Vietnam worked closely with other ASEAN members to properly address East Sea challenges that might sow division and damage trust within the grouping, so as to consolidate its solidarity, find common ground on international issues, and expand cooperation with other partners.
Deputy Foreign Minister Pham Quang Vinh affirms Vietnam makes a responsible contribution to building the ASEAN Community, developing its central role in addressing regional and international issues, as well as expanding external relations.
Vietnam strongly supports ASEAN's six-point East Sea principles in peacefully resolving all disputes in line with international law, especially the 1982 UN Convention on the Law of the Sea (UNCLOS).
New relationship status with key partners
Vietnam established the strategic partnership with France, Italy, Indonesia, Thailand and Singapore this year, bringing to 14 the total number of its strategic partnerships it has developed with foreign countries.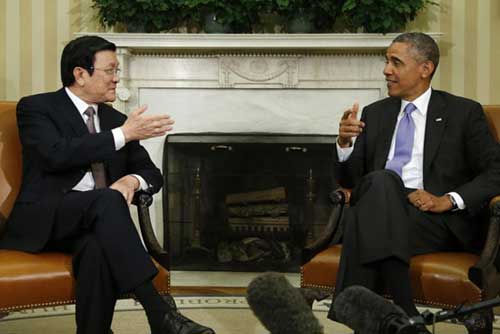 State President Truong Tan Sang (L) held talks with President B. Obama during his visit to the US in August. (Photo: AP)
By forming the comprehensive partnership with the US, Vietnam was the first ASEAN member state to develop strategic and comprehensive partnerships with all five permanent members of the UN Security Council.
Fine political and diplomatic relations facilitated foreign investment attraction. Despite the global financial turmoil, Vietnam attracted more than US$20 billion in FDI in 2013, a year on year increase of 65%. In addition, shuttle diplomacy also supported negotiations of bilateral and multilateral trade agreements.
Vietnam is endeavouring to conclude negotiations of a free trade agreement (FTA) with the European Union, and of the Trans-Pacific Partnership (TPP) agreement with 11 other negotiators in 2014. It concluded the fourth round of FTA negotiations with the Customs Union (comprising Russia, Belarus and Kazakhstan) this year.
Forty-three countries, including 8 G-20s, have to date recognised Vietnam's market economy status. In 2013 alone, 14 more countries voiced their support for Vietnam's call.
Strategic trust
Vietnam consolidated and promoted its image at international forums. For the first time Prime Minister Nguyen Tan Dung delivered a message of building strategic trust at the 2013 Shangri-la Dialogue in Singapore in May, which received high international acclaims.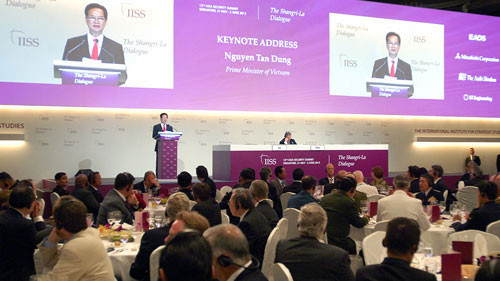 PM Nguyen Tan Dung called for strategic trust to address regional and global issues.
In another speech at the UN General Assembly's general debate in New York in September 2013, PM Dung called on the international community to foster strategic trust and re-double efforts to promote peace, end hunger and poverty, and protect the planet.
His speech hit foreign press' headlines and was considered a success in Vietnam's multilateral diplomacy.
This year Vietnam was elected to the Board of Governors of the International Atomic Energy Agency (IAEA), UNESCO World Heritage Committee and
United Nations Human Rights Council
, elevating its position and demonstrating its responsibility towards humankind's issues.
Diplomats say Vietnam has won strong international trust for its positive stance and complete commitments to big world issues such as non-proliferation of weapons of mass destruction, counterterrorism, climate change adaptation, the fight against trans-national crime, gender equality, and the protection of vulnerable groups in society.
Source: VOV