With the slogan "Be a little ambassador of Hanoi", each member of the Hanoi Kids club concerns himself/herself as a young ambassador to introduce foreign visitors to Hanoi. Many foreign visitors have become friends of the club's members after Hanoi tours.
Tong Ho Thuong, the last-year student of the
Hanoi
Foreign Trade University, came to Dao Duy Tu Street to see visitors – a young couple from London, Gilberto Ruiz and his wife Citlali Plasse. The couple were very glad to know that their guide in the trip to explore Hanoi is a pretty girl who speaks English fluently.
Being a voluntary guide of over 100 tours in two years, Thuong is now a senior member of the Hanoi Kids. Normally, two members join a group of visitors but Thuong prefers to go alone because she wants to have the opportunity to speak English more and create peace of mind, confidence for customers.
Because the two Venezuela-origin visitors had not informed her of the schedule, Thuong only knew the places that they wanted to visit when she came to the hotel to pick them up.
The first destination they wished to go is the Ho Chi Minh Mausoleum, then Uncle Ho's house-on-stilt, the
One Pillar Pagoda
, a walk around the West Lake and enjoying the specialties of Hanoi. To create the comfort and attraction to her story, Thuong said the only way is to smile all the time.
Another senior member of the Hanoi Kids is Duong Hong Anh, a 2nd-year student of the Hanoi University of Technology. Hong Anh has been a voluntary tour-guide for over three years, since she was an 11th grader. Hong Anh is proud of accumulated experience and fluent English skills through free tours. She said that previously she was very shy, but now she is confident to communicate with any foreigner. She is the Chair of the Hanoi Kids.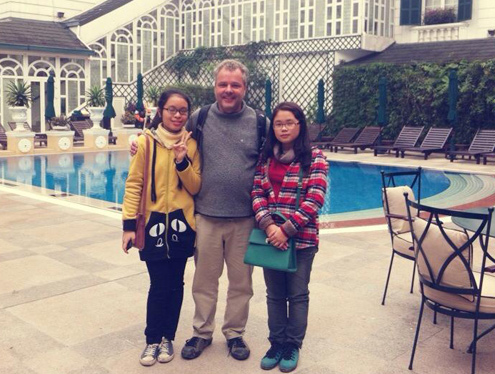 Ha (red shirt) usually teams up with another member in tours. Each trip helps this girl learn more and be aware of the need to accumulate more knowledge to not be "embarrassed" with foreign visitors.
Not much experience as Song Thuong and Hong Anh, Dinh Thu Ha, from the University of Hanoi, has been a member of Hanoi Kids for almost four months and she has been a guide of 20 tours. To join the club, Ha had to pass three rounds of tests for knowledge and English. Ha is one of the 40 students who "defeated" 700 competitors to be the new members of this club last December.

According to Hong Anh, though the service is free, foreign visitors are often very polite to give guides some tips, which is used to maintain Hanoi Kids and to organize recruitments of volunteers. Each year, the club has two intakes, with only 40-45 new members picked up each time.

Before becoming an official tour guide, new members are trained in two months. During this time, experienced members will lead each group of 10 new members to the Ho Chi Minh Mausoleum, Van Mieu - Quoc Tu Giam (Temple of Literature) or museums to guide and test their knowledge. The new members will in turn make presentation in front of crowds to enhance their confidence.

After the training course, the new members will experience two trail tours along with a senior member. If they pass the two trial tours, they will become the official member of Hanoi Kids. Each member must have at least 10 tours a quarter, otherwise they will be warned or be rejected from the club. Currently, the club has 70-80 members. Each month, the club organizes about 100 tours for visitors mainly from Australia, America, Singapore, Malaysia or Indonesia.

Most of members have quickly adapted themselves to the job after several first tours. Thu Ha still remembers her first time with Singaporean visitors. A week before the tour, she carefully learned information about some destinations and practiced speaking. She was very nervous and expected the tour to come, but that day she was late because she missed the bus.

The tour with a four-member family from Malaysia is also a memory to Ha. Unexpectedly changing the schedule, Ha and another student took the family to the Le Mat Snake Village. Thinking that Vietnamese restaurants accept credit cards, the Malaysian visitors took with them only $80 in cash. That time, Ha had to try her best to convene the restaurant owners to reduce prices for the Malaysian customers.
Though Hong Anh has no longer been a tour guide, she was excited to share her experience. Hong Anh's final tour is taking the US Trade Representative to the Hoa Lo prison. Hong Anh said he did not expect that visitor was so friendly. During their tour, Hong Anh could comfortably talk and even had joke with him.
Members of the Hanoi Kids during a tour in Mai Chau, Hoa Binh.

Hong Anh said he used to lose the way in the Hanoi's Old Quarter in his first tours. He had to ask for help from xe om or cyclo drivers. "In that situation, you must be ready to take a quick response," he said.

Hong Anh said that most of tour guides work in pair to support each other. Visitors have different characters. For example, Germans and Japanese are easy while Singaporeans are picky. "Sometimes the bargaining finishes but they unexpectedly did not buy the goods. At that time, tour guides have to be calm to handle the case to not ruin the atmosphere of the tour. The most important thing is to protect visitors and save their best," Hong Anh said.

According to Hong Anh, it is quite difficult to understand English of visitors from South Australia. Therefore, he had to pay attention to the greeting and it often took him 1-1.5 hours to get used to their accent. For Thu Ha, it is quite hard to understand British visitors because of their accent.

As free guides, for Hong Anh, Thu Ha or Song Thuong, the praise and suggestions of visitors are a great encouragement to them. Many visitors have become their friends.

After each tour, visitors usually leave their comments on the page TripAdvisor. In the rankings, the Excellent accounts for most of the praise of customers.

Visiting Hanoi in March, a visitor from Malaysia, with nickname Dianakpg wrote: "This is a service for free guide of students from many different universities with the aim of improving their English speaking skills. The guides are excellent. They understand the history and are dedicated to the fellow. They will take you to many places and tell you the history of that place. You should place order for their service a few months before their trips because they are famous."

On 25/5/2006, 10 youngsters who love Hanoi and enjoy learning English formed a group of free tour guides. It was initially named Hanoi Friends but later its name was changed into Hanoi Kids.
Vietnamnet