The elegant garden of Nha Vien in Buu Long Ward, Bien Hoa City, Dong Nai Province is an interesting place for tourists because it displays typical cultural characteristics and architectural styles of all regions in the country.
Nha Vien was built in an area of 5,000m
2
with a three-door entrance which was designed in the ancient
Hue
style. The entrance is harmoniously combined with the main architectural work of the tourism area - Phu Xuan Duong, a
Ruong
House.
Nam Huyen Duong, a house designed in the southern architectural style with a spacious and airy space.
Vong Cac Son - A house on stilts of Tay Bac (Northwest) region .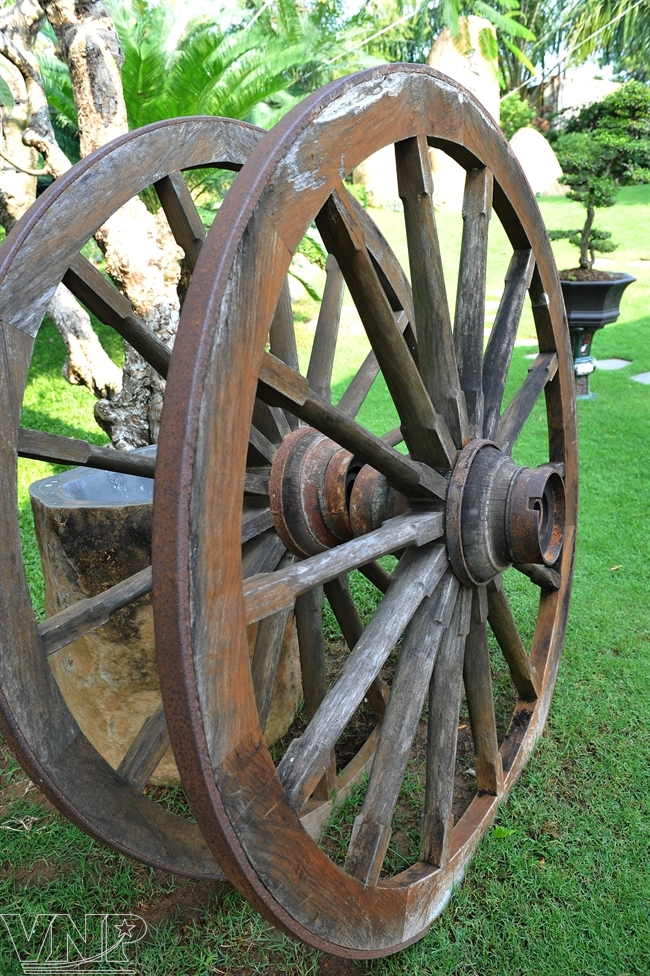 An old wheel in Nha Vien's garden.

A dug-out of the ethnic people.
Visiting the garden, tourists will be fascinated by a romantic landscape of nature and typical houses. From the entrance, tourists follow a small stone-paved road with its two sides being flowers and trees to arrive in Phu Xuan Duong and then Nam Huyen Duong, a house designed in the southern architectural style with a spacious and airy space. The road also leads tourists to a house on stilts, called Vong Son Cac, of the Thai ethnic people which was the original copy from the Tay Bac region. Near the house on stilts is a dug-out – a means of transport on rivers of ethnic people in Tay Nguyen (the Central Highlands). In the garden, tourists will see Huong Tuyen Stream that reminds one of the romantic and peaceful Huong Giang River near the old capital of Phu Xuan. Over the stream, there are five small bridges, including Kim Nghe Kieu Bridge in front of Phu Xuan Duong that is the most unique because it was built with stone in the shape of a coiling unicorn in the ancient style of Hue. The stream surrounds three directions of the north, the west and the south of a southern styled house, Tu Quang Duong, and then creates a small pond in front of Dao Nguyen Dong. In the west of Tu Quang Duong is Linh Phong Mountain, formed by seven stones that symbolize the That Son Mountain Range in the South.
A traditional rice-hulling mill.

An ornamental fish pond in Nha Vien.

The peaceful beauty of Nha Vien.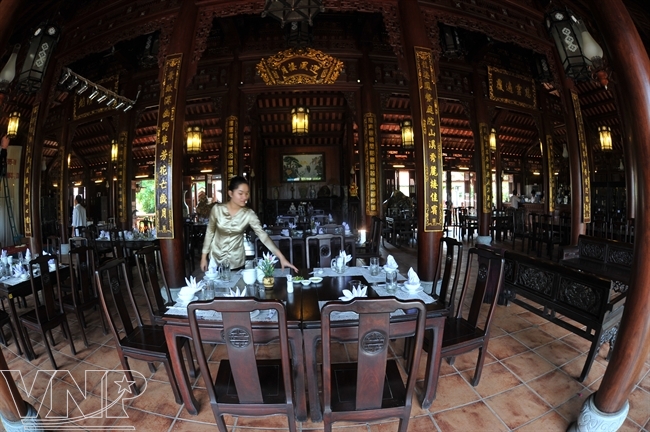 Furniture inside Phu Xuan Duong.

Coming to the garden, tourists also have a chance to see with their own eyes a series of valuable ancient objects that the area's owner has spent a lot of time and effort to collect from different places.
Thanks to the combination of unique cultural features of three regions of
Vietnam
and
beautiful landscape
, Nha Vien has become a familiar destination for tourists.
Story: Nguyen Vu Thanh Dat - Photo: Dang Kim Phuong
Source: vietnam.vnanet.vn