"Xam" is known in Vietnam as folk music usually performed by blind street singers to earn their living. As it originated from the working class and poor people, "Xam" has become an intellectual part of the commoners' cultural life. Its most distinctive trait lies in the simplicity and popularity of its lyrics and the earthliness but profoundness of daily life in the songs' lyrics, which often narrate daily-life stories, satirizing and criticizing severely the social evils while highly praising education and humanitarian values.
Therefore, "Xam" doesn't care so much about costumes and stages like other types of traditional arts. "Xam" singing can be performed anywhere, on any street or corner where large numbers of people pass. It is so simple that anyone can sing some verses to express their inner feelings on life.

After a long period of decline, "Xam" has been recently revitalised through a program titled "Tale of 'Xam' " performed by master artists of Vietnamese traditional music, especially People's Artist Thanh Hoai and People's Artist Xuan Hoach, who have fully and vividly revitalised the life and soul of " Hat Xam" (Xam singing) through their beautiful vocals and talented musical skills.
The " Tale of Xam" program is organised in Manzi Art Space at 14 Phan Huy Ich Street, Hanoi.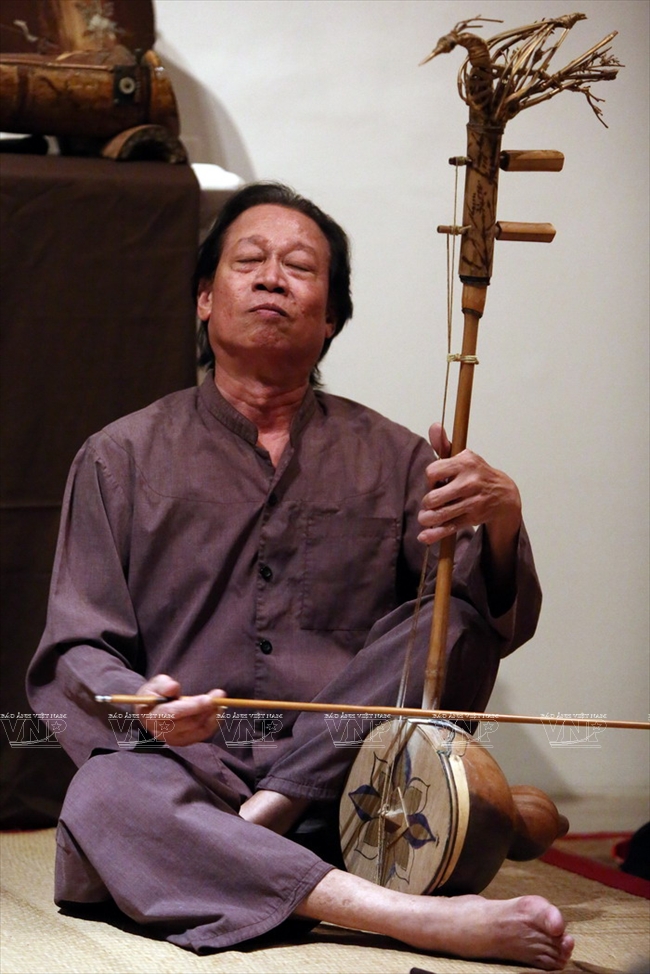 People's Artist Xuan Hoach letting his soul fly into a " Xam" tune..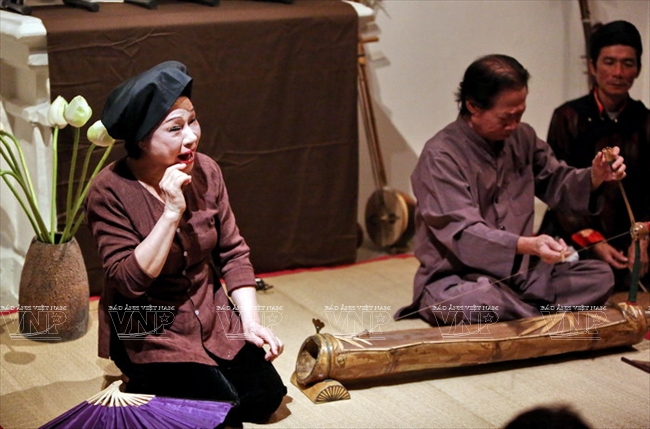 People's Artist Thanh Hoai embodying herself into a character in a " Xam" melody.


The combination between drum and castanets in the traditional art of " Xam" singing.


People's Artist Thanh Hoai gives audiences different stages
of feeling from different " Xam" melodies through her nice vocals.


The seats are simply arranged with mats, creating closeness and warmth between audiences and artists..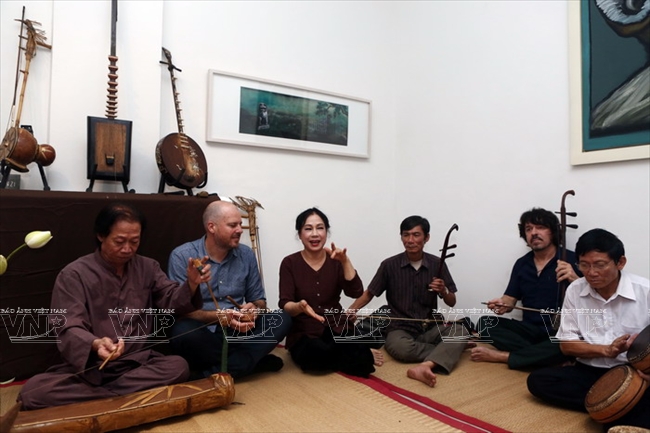 The wonderful and attractive "Xam" melodies catch the special attention of audiences, particularly foreigners.


Audiences talking to artists and discovering with their own hands
the special sounds of assorted musical instruments used in "Xam" singing.

David (Australian) inquires about Vietnam's " Dan nguyet" ( moon-shaped two- string guitar).


People's Artist Xuan Hoach introducing to young audiences a type of traditional musical instrument used in " Xam" singing.
""Tale of Xam" is a traditional-music program in the series "Tale of Music" organised by Manzi Art Space in an old French villa at 14 Phan Huy Ich Street, in the heart of Hanoi. "Tale of Music" has brought to audiences an interesting discovery of purely Vietnamese traditional music as well as national culture related to such an art form. Therefore, the "Tale of Xam" program greatly interested young audiences, Vietnamese and foreign as well, who have come to Manzi Art Space in order to understand and see with their own eyes a cultural activity during their ancestors' time or to discover and experience a peculiar cultural trait which can never be seen in their own countries.
People's Artist Xuan Hoach confided, "We performed in such a simple way without accompaniment in order to express the soul of "Xam" performed by our forefathers. Within this space, we only need to sing softly, the audiences could feel the sounds, even the smallest".

Perhaps, for that reason, the effect of the " Tale of Xam" could be seen through the joy of audiences and their enthusiastic talks with artists.

Telling us about the idea of organising the music night of " Tale of Xam", Vu Ngoc Tram, owner of the French villa and the Manzi Art Space, said, " Manzi wishes to create an opportunity for everyone to enjoy genuinely traditional music of the old days. Like it or not is the feeling of each person, but being Vietnamese, one must at least once know and experience traditional music".

With her desire to create chances for young people to experience traditional culture even only once, Tram has built Manzi into a cultural space, a popular address for not only Hanoians but also visitors to the capital city of Hanoi.
.
Some types of traditional musical instruments for " Xam" singing, including (from left to right) "Ho gao" (scoop-shaped two-string viola, " Dan day" (three-string instrument), "Dan nguyet" (moon-shapted two- string guitar), and "Dan bau"( Single stringed instrument).
"The thuong" (reward tablets) made of bamboo, thrown onto the stage
by audiences as a symbol of their high appreciation of an interesting melody.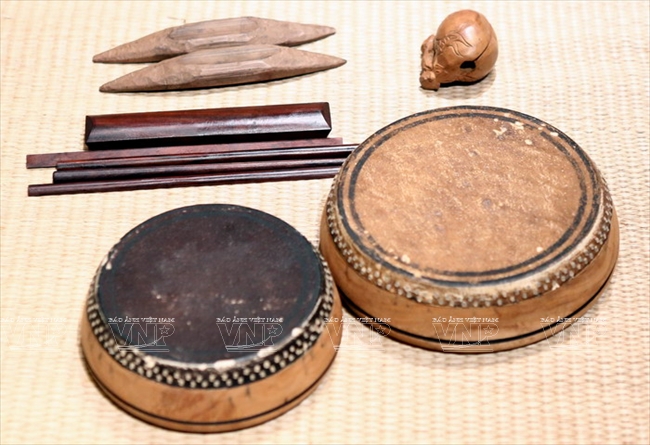 " Trong ban" (drum), "mo" (bamboo tocsin), " Senh sua" (castanets), " Phach" (bamboo castanets)
are common percussion instruments in " Xam" singing.
Story: Thao Vy - Photos: Tran Thanh Giang
Source: Vietnam Pictorial