With a complex of over 300 caves and a 116km-long coastline with white sand, Quang Binh is becoming a potential tourist destination in the system entitled "Central Heritage Road".
"Kingdom of caves" in the west

Going northwest about 50km from Dong Hoi City, we reached
Phong Nha – Ke Bang National Park
. The signpost with the words "Phong Nha – Ke Bang National Park, a world natural heritage" was like an invitation promising an exciting journey to explore this area.
Known as a "Kingdom of Caves", Phong Nha – Ke Bang National Park is attracting local and international tourists to visit the caves, such as Phong Nha, Tien Son, Thien Duong, Toi, En and Son Doong.
Luke Ford, a British tourist who returned to explore and survey the caves in
Quang Binh
for the third time said: "Compared to other caves I have visited, the caves in Quang Binh are a little bit more difficult to access but they are much more beautiful and primitive."
Thien Duong Cave is evaluated as one of the most grandiose and longest ones in Asia
by the British Caving Association. Photo: Tat Son


Going to Quang Binh, tourists will have a chance to explore the beauty of a "Kingdom of Caves"
in Phong Nha-Ke Bang National Park. Photos: Tat Son-Thanh Giang


Touring the area using electric cars. Photos: Tat Son-Thanh Giang
We took an electric car to go through the forests which were hundreds of years old, to
Thien Duong Cave
. In 2005 the British Caving Association conducted a research on this cave and announced it the longest cave in
Asia
.
Going deep inside the cave we really enjoyed the superb beauty of the stalactites and stalagmites in different shapes on the ceilings and the floors under the lights on both sides of the caves. Pham Van Dong, a tour guide said: "So far, visitors to this cave only go 1.5km deep. Few people know that from the last stop, they can go 7km further. If we continue going forward, we'll clearly see the primitiveness of this karst mountain, which is nearly 400 million years old, and its magnificence like a splendid underground palace."
«
Phong Nha - Ke Bang National Park is located in Quang Ninh, Bo Trach and Minh Hoa Districts and covers an area of 120,000ha. Being one of 238 important ecological regions globally, the park is not only famous for its biodiversity values but also the most beautiful landscape of caves in the world. In 2003, it was recognized as a World Natural Heritage Site by UNESCO.
»
Curiosity induced us to go on with a 7km-long adventure with a flashlight on our heads and some specialized equipment. The deeper we went, the more we felt lost in an underground paradise with huge white stalactites which were as transparent as quartz. When tapped, the stalactites produced strange sounds fascinating us. Reaching the last point of our journey, our eyes were suddenly dazzled by the sunshine from a height of nearly 100 metres. On the ground there were stones and a stream rushing noisily through the forest.
We continued going southwest and reached Sinh Ton Valley, 15km from Phong Nha Cave. It took us much time walking 5km through the forests and climbing dangerously high cliffs to explore a primeval forest covering 2,000ha. We were really surprised at the fact that in the Truong Son Range in Quang Binh there is a "living museum" with historical, geological and geomorphologic values and high biodiversity in flora and fauna which have been well preserved.
After passing through many rocky slopes and the primeval forest we rowed the kayaks down the transparent Chay River and arrived at the entrance to Toi Cave whose values were being surveyed by the explorers.
According to Dr. Howard Libert, an expert of the British Caving Association, over more than 400 years of tectonics, the ranges of mountains with typical karst geomorphologic characteristics in Phong Nha are a part of the area of the most ancient karst mountains in Asia which have continually developed and revealed new hidden treasures.
Le Thanh Loi, Director of Phong Nha – Ke Bang Tourist, Cultural and Ecological Centre told us that in the past 10 years three million people visited Phong Nha – Ke Bang National Park. To popularize the beauty of the caves in this area, the management board of the park promoted communication activities through the exhibitions in Germany and Laos and coordinated with television film studios in Brazil and Hong Kong to make films. The management board also signed with some travel companies to organize ecological and adventure tours to attract more tourists to the park in the near future.
Sea paradise in the east

After days of exploring the beauty of the mountains and forests in Phong Nha – Ke Bang National Park, we went to the beaches which have white sand and slope to the sea.
Known as a calm beach with a wild and romantic beauty,
Nhat Le Beach
has become a familiar destination for tourists on summer vacations. Located near the Nhat Le River, the beach slopes gently and is an ideal and safe place for tourists. Along Nguyen Du and Truong Phap Roads near the coast there are historical relics and scenery, such as the vestige of Tam Toa Church, the monument dedicated to heroine-mother Suot, and the archaeological site of Bau Tro. All these contribute to attracting tourists to Nhat Le Beach.
While prepared food for customers, Minh, the owner of a seaside restaurant said: "Now people visit Quang Binh sea all year round because this area has not only Nhat Le Beach but also many other beautiful beaches, such as Quang Phu, Hai Thanh and Da Nhay near the city's centre. Only going to Bao Ninh Commune can people really take a sea tour in Quang Binh."
Under her instructions we went across the Nhat Le Bridge which was inaugurated in 2002, linking Dong Hoi City and Bao Ninh Peninsular. Seen from afar, Bao Ninh looked like a beautiful giant miniature mountain in a vast sea with a harmonious arrangement of sand dunes, sea, rivers, lakes and green trees.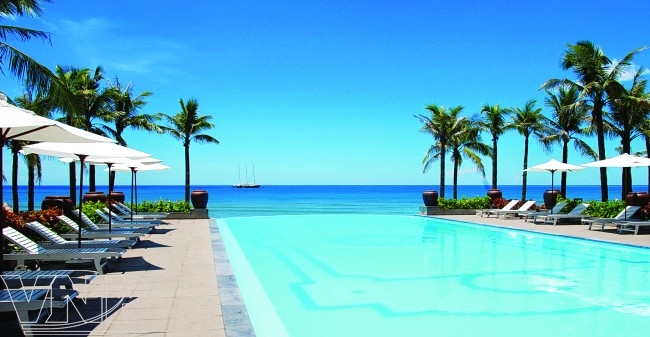 A luxurious resort on the beach in Quang Binh. Photo: File


Quang Binh Province annually attracts a large number of foreign and domestic tourists. Photos: File-Tat Son


On Nhat Le Beach. Photo: Tat Son


Sun Spa Resort near Nhat Le Beach. Photo: File


The landscape of Sun Spa Resort. Photo: File


Relaxing at the resort. Photo: Tat Son


Quang Binh has become a favourite destination for both domestic and foreign tourists. Photo: File
«
"Defining its advantages in terms of caves and the sea, on the basis of the sustainable exploitation and preservation of the natural landscape values, Quang Binh Province has attached special importance to the issue of developing tourism in its strategy to promote socio-economic development and include the province in the world's tourist map."
(Nguyen Huu Hoai, Chairman of Quang Binh Provincial People's Committee)
»
If people visited Quang Binh 10 years ago when Bao Ninh was still a peninsula separated from Dong Hoi City, they could not imagine that on a wild area of 45ha with white sand and hot wind from Laos in summer afternoons there would be a square capitalized at 10 billion dong, a well-planned Bao Ninh Beach with a perfect combination of sunshine, wind and sea and a system of spacious restaurants, which lured many domestic and international tourists like today. The coastal roads with white sand in the past have been asphalted and equipped with a system of lights. Along these roads, many resorts, hotels, parks and villas of 40 coastal projects capitalized at over 10,000 billion dong are being built and completed.
The Sun Spa Resort built by Truong Thinh Group with an investment of 1,000 billion dong covers an area of 29ha and looks like a bright spot in the Dong Hoi – Quang Binh picture. With the vast sea on one side and the calm Nhat Le River on the other side, this resort with a system of rooms reaching 4-5 star standards receives thousands of domestic and international visitors who come to relax and enjoy entertainment services at the beach during hot summer holidays.
We finished our journey by visiting the fishing villages in Bao Ninh, where home-stay tours were established to help visitors experience the life of the fishing people in the watery areas and enjoy seafood and the typical folk songs of the area with hot wind and white sand in Quang Binh.
Story: Ngan Ha - Photos: Tat Son, Thanh Giang & Sun Spa Resort's File
Source: http://vietnam.vnanet.vn