Over 100 years ago, in September, the Governor-General of Indochina started construction of a bridge over the Red River. The bridge was named Paul Doumer, but Hanoians call it Long Bien Bridge or Cai River Bridge.
At that time, it was the second longest bridge in the world, only after the Brooklyn Bridge over the East River in the US and is considered the horizontal Eiffel Tower of
Hanoi
.
Due to the impacts of nature and destruction by wars for three centuries, the bridge has now kept intact a compound span in the north, another in the south and half of a compound span in the middle of the river.
The board records the name of the contractor, Dayde&Pille, and the years of construction and inaugurations,
on the Long Bien Bridge.


Every day the villagers in the middle of the river transport agricultural products to the bridge and then sell them in the city.



New buildings built on the northern bank of the Red River seems to highlight the value of the over 100-year- old bridge.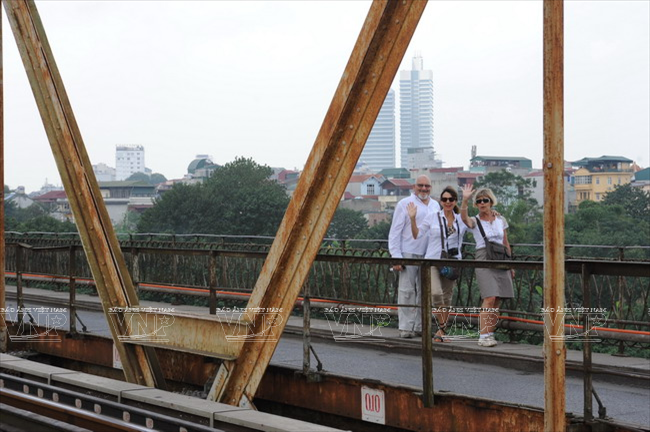 The bridge attracts a large number of foreign visitors.



Long Bien Station is located on the southern bank of the bridge.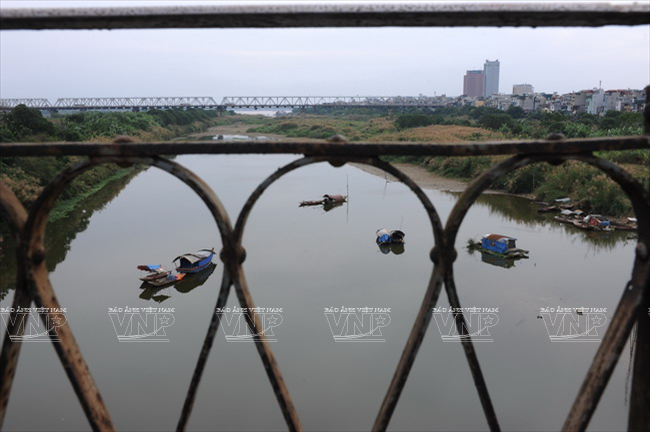 Designs help the bridge look graceful.



The Long Bien Bridge seen from the southern bank of the Red River.



The Long Bien Bridge is reflected on the water of the Red River.


The Red River seen from the bridge.


The 100 year-old bridge looks sparkling at night.

Although many modern bridges have been built over the Red River, such as the Chuong Duong Bridge, Vinh Tuy Bridge, Thanh Tri Bridge, Thang Long Bridge and the recently-inaugurated Nhat Tan Bridge which facilitate transportation and economic development in areas on the two banks of the river, the Long Bien Bridge is of great significance – preserving memories of Hanoi. It has proven to be a masterpiece by people and a witness of the glorious history of Thang Long-Hanoi, the land of a thousand-year-old culture.
Every day from the early morning, small traders on the outskirts of Hanoi often go along the bridge to the Long Bien Nocturnal Market to sell their agricultural products that reminds one of an old space in Hanoi.


By Tran Thanh Giang
Source: Vietnam Pictorial