An attractive tourist peninsula


At the end of the 19
th
century, when setting foot on the beautiful peninsula, the French realized that Vung Tau was an ideal tourist area with a temperate climate, cool weather all year round and a long coast with blue water. So they quickly built many motels, health resorts and hotels there. Many buildings with French architectural features mushroomed and Vung Tau became the first marine tourism city in Vietnam.
More than a century has passed and Vung Tau has proven to be one of the most renowned tourist destinations of Vietnam. It has an ideal climate and beautiful beaches, such as Truoc, Sau, Dua, Nghinh Phong and Chi Linh, many unique historical and cultural relics, such as Bach Dinh, the lighthouse, Thang Tam Temple and folk festivals, such as the Nghinh Ong Festival, Thang Tam Temple Festival and Trung Cuu Festival. The development and interaction with the new cultures have also created other festivals of new and modern styles, like the world culinary culture festival, the international kite festival and the sea festival.
Christ the King at the peak of Nho (Small) Mountain in Vung Tau, 32m high and
its two outstretched arms spanning 18.4m, is striking in the area of mountains and sea. Photo: Trang Linh
Sau Beach attracts a large number of tourists. Photo: Trang Linh
The cable car system from Truoc Beach to Ho May Tourist Site on Lon Mountain. Photo: Le Minh


At the sand statue making contest during the Vung Tau Sea Festival 2006. Photo: VNP's file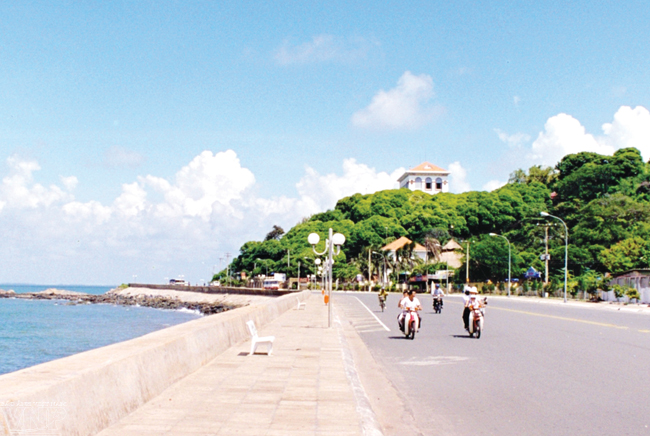 Bach Dinh preserves many vestiges of the patriotic King Thanh Thai (1879-1954). Photo: Trang Linh


The procession of Ong (Whale) Fish - a traditional rite of fishermen in Vung Tau. Photo: Le Minh

Performing a blazing dance at the street festival. Photo: Le Minh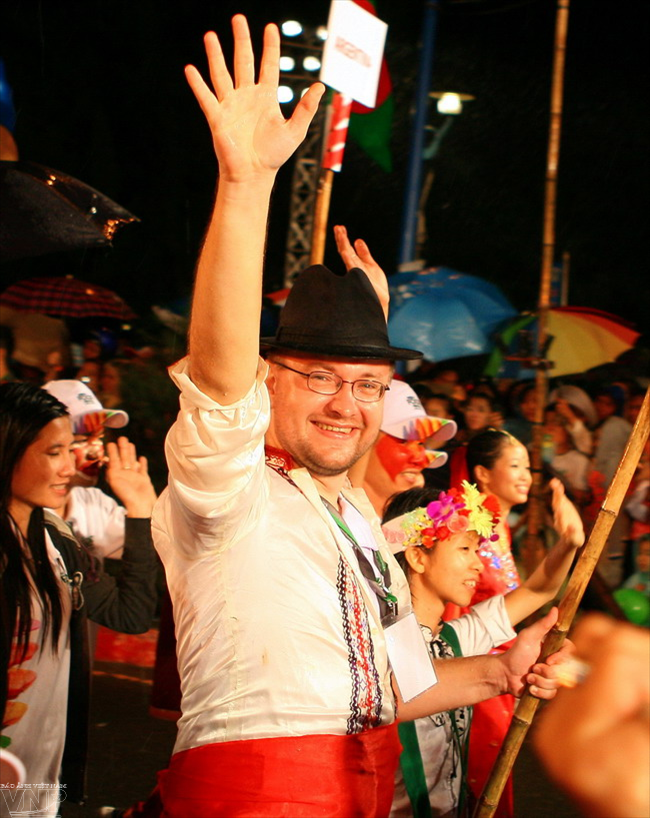 International tourists participate in the street festival in Vung Tau during the World Food Festival 2010. Photo: Le Minh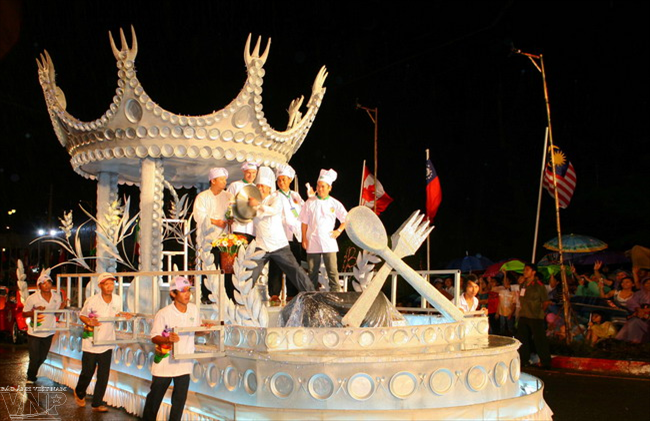 Master Chef Martin Yan performs at the street festival during the World Food Festival 2010. Photo: Le Minh
«


"Currently Vung Tau has 1,513 tourist accommodation service facilities, including 483 hotels, guest houses with 6,153 rooms, 99 hotels and resorts reaching 1-5 star standards. Every year Vung Tau receives over 3 million tourists including 300,000 international tourists. Its average annual turnover from tourism is more than 2 trillion dong."


(Phan Hoa Binh, Chairman of Vung Tau City People's Committee)

»
To have a panoramic view of Vung Tau City we followed a path, which winds its way around Nho (Small) Mountain, to reach Vietnam's oldest lighthouse. It is 100 years old and 18m high and projects light as far as 35 miles. Seen from the lighthouse, Vung Tau is very beautiful and fascinating with the blue sea, high mountains and a carpet of green trees. Far away there is a cable car station leading to Ho May Tourist Site on Lon (Big) Mountain. Sitting in the cabin of the cable car, we saw Bai Truoc (Front Beach) appear with spectacular reefs. Lying amidst the forests of teak trees and Plumeria trees is the Bach Dinh (White Palace), a renowned historical and cultural relic which still preserves many vestiges of patriotic King Thanh Thai (1879-1954)

Our cable car arrived at the top of Big Mountain. Situated on the coastal city, Ho May tourist site has distinctive scenery with mountains and forests, fresh and cool air and an average temperature of 22-250C. It is a fascinating eco-tourist site. Here visitors can walk along small paths to contemplate the wild beauty of the mountains and forests of Lagerstroemia speciosa trees and participate in outdoor activities, such as camping overnight in the forests of Caribbean pine trees and cherry trees.

Besides the tourist sites that are operating, Vung Tau has more new tourist projects. The Vung Tau-Dragon Sea Conference and Exhibition Centre project is expected to create a breakthrough for Vung Tau tourism to attract international and wealthy visitors. The Saigon Atlantis Hotel project with a total registered capital of over 4.1 billion dollars by the US Winvest Investment – LLC Group is a 5-star tourism complex of international stature. It includes garden villas and an 18-storey hotel, motorbike racing, sport competitions, boat racing and a museum of sea creatures.

According to Phan Hoa Binh, Chairman of Vung Tau City People's Committee, with the orientation of making tourism become a spearhead economic sector, the city will concentrate its sources on the development of services, tourism and trade. It will also concentrate investment on the planning, improvement and construction of the urban infrastructure in accordance with modern urban standards to make Vung Tau become an attractive marine tourism city.

An oil and gas centre of Vietnam

With the potential of oil and gas production at sea, Vung Tau is also a centre of the oil and gas industry of Vietnam. Initially, the Vietnam-Soviet Oil and Gas Joint Venture Enterprise, which is now Vietnam-Russia Oil and Gas Joint Venture (Vietsovpetro), was established in 1981. It is Vietnam's first joint venture with a foreign country in the field of oil and gas. Later, for the first time, Vietsovpetro found industrial oil reserves at the Bach Ho (White Tiger) field on the Vung Tau-Con Dao continental shelf in 1984, marking the formation of an oil and gas centre of Vietnam in Vung Tau.

Now, Vung Tau is not only the capital of the oil and gas exploration and exploitation sector with the participation of dozens of oil and gas groups in the world, but also a centre of high-tech services for the oil and gas industry, with a complex of plants manufacturing almost every specialized equipment of the oil and gas industry. Vietsovpetro alone, the "eldest brother" division of the oil and gas industry in Vietnam has brought to the country over 60 billion dollars.
Dai Hung Oil Rig 02 under Dai Hung Petroleum Operating Company Limited of Petrovietnam Exploration Production Corporation
(PVEP POV), an affiliate of Petrovietnam Exploration Production Corporation (PVEP). Photo: Hoang Ha


The centre for controlling the drilling rig in Dai Hung Field, the South Con Son Basin, 265km from Vung Tau.
Photo: Hoang Ha


The lab of the Institute for Oil and Gas Science Research and Design. Photo: Le Minh


Installing the rig platform at the oil and gas port of PetroVietnam Technical Services Corporation (PTSC). Photo: Le Minh


Part of Dong Xuyen Oil and Gas Industrial Zone. Photo: Le Minh


Producing oil tubes at Vietubes in Dong Xuyen Oil and Gas Industrial Zone. Photo: Le Minh


Gas tanks at PTSC's port in Vung Tau in the service of the oil refinery sector. Photo: Le Minh


The Oil and Gas Service Port of PetroVietnam Technical Services Corporation in Vung Tau. Photo: Le Minh
«
Vung Tau is one of Vietnam's leading cities in GDP. In 2012 its average income per capita reached 6,060 USD, four times as much when compared with the national average. About 92% of the city's population works in the industrial and service sectors.
»
Over the past 30 years, with ever more modern and comprehensive material facilities ashore and offshore Vietsovpetro has expanded its operations, both in width and depth to other countries around the world, contributing to making Vietnam become the 3rd largest oil and gas exploitation country in Southeast Asia. At present Vietsovpetro is also a centre of research, invention and application of new technology and a centre of human resource training for the oil and gas industry in Vietnam. It has constantly expanded its geological exploration activities and has actively participated in the projects of the Vietnam National Oil and Gas Group (PetroVietnam) to expand its activities to other countries in Africa and South America and in the region.
Vung Tau City has an oil and gas service port of a large scale, which plays an important role in providing port service supports and logistics for the exploration and exploitation activities of the oil and gas contractors in Vietnam.

Nguyen Quoc Hoang, Director of PTSC Supply Base under PetroVietnam Technical Service Corporation (PTSC) said that his company is managing, operating and exploiting Vung Tau PTSC port which has a total area of 81.5ha including 750m of port with a capacity of accommodating the 10,000DWT ships and 60,000m2 of workshops with a system of diverse and modern means. In addition, the company has developed to become a centre of professional logistic services for the oil and gas operations in Vietnam and ASEAN's region. It provides good services, meeting the requirements of many contractors specializing in exploration and exploitation drilling and mine development, such as BP, JVPC, Petronas, Cuu Long and Hoang Long and more than 30 subcontractors and other customers.

Taking advantage of the oil and gas resource potential, Vung Tau is investing in developing the industrial zones with the industries relating to oil and gas, such as the refining of petrochemicals, processing of gas products, generating electricity, production of steels, chemicals, fertilizers and construction materials and other industries using gas as fuel and raw materials. A typical industrial zone is the Dong Xuyen IZ.

In the island commune of Long Son, many projects on exploiting, processing and supplying oil and gas products are also under construction and are drawing investors' attention. Here, in an area of about 1,185ha, many large projects will be built, such as Oil Refinery No. 3, the Southern Petrochemical Complex, the Electrode Manufacturing Plant, the shipyard, the mechanical equipment plant and the general port area. The Southern Petrochemical Complex project capitalized at 4.5 billion dollars is expected to be built in early 2014 and completed and put into operation in 2017. It is estimated that when the complex starts its commercial operation, in the initial stage, each year it will produce nearly 2 million tonnes of products including polyethylene (PE) and inylchlorilemono mer (VCM) (for a long time Vietnam has annually spent 1 billion dollars importing these products to provide for the plastic manufacturing industry) and polypropylene (PP) grains.

With abundant economic and tourism potential, Vung Tau City is rising to become a developing, dynamic centre of tourism, oil and gas in the region.
Story: Nguyen Vu Thanh Dat - Photos: Le Minh, Trang Linh, Hoang Ha & VNP's files
Source: vietnam.vnanet.vn